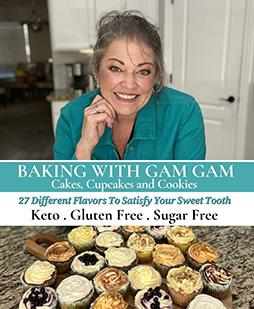 Below are the links for my favorite things and the keto related products I use the most. "Please" 🙂 use these affiliate links as often as possible. It supports my work/channel and the price is the same for you regardless. I've scoped out the best deals I can find for you!
Cheese Buns Baking Mold

Hand Mixer Immersion

Portable Blender

Zero Net Carb Tortillas

Ice Cream Bar Molds

Mini Skillet

Whey Protein

Almond Flour

Coconut Flour

Pumpkin Spice Syrp

Cookie Scoops

Regular Erythritol

Golden Erythritol

Allulose Sweetener

Salted Caramel

Bites Baking Molds

EZ Clean Up Air Fryer Mat

Donut Molds Set

Measuring Spoons Set

Cloud Bread Baking Rings

Keto Bread Non GMO

Low Carb Tortilla Chips

Oat Fiber Organic

Sugar Free Baking Chips

SF Chocolate Chips

SF 0 Calorie Syrups

SF Caramel Syrup

SF Chocolate Syrup

SF Choc. Hazelnut

Auto Frother Hot/Cold

Awesome Air Fryer

Mini Chopper

Hand Mixer Food Proc.

Waffle/Bread Stick Maker

Counter Top Oven

My Hexclad Knife Set

10″ Fry Pan (AMAZING)

6 Piece Pan Set

Ceramic Cast Iron Skillet

Pink Omelet Pan

Vegetables Chopper

Affordable Knife Set

e Salad Spinner

Ice Cream Maker

Ice Cream Storage

Kitchen Lighting

Wellness Journal

Large Frosting Tips

Keto Pudding

Ice Cream Maker

Ice Cream Storage

Kitchen Lighting

Wellness Journal

The above links are affiliate links and part of the Amazon Associates and Walmart Affiliate Program. These links are to my favorite products. I may earn a commission when you buy through this link" or "eligible for commission."The affiliate links in no way impact my recommendation. This is what you will find in my kitchen. You using the links helps to support my efforts, it does not impact your cost. I appreciate your support. This work is important to me and I want to give my all to it. I want to help people heal their bodies, like I healed mine. In my kitchen. With food.